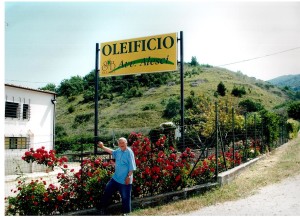 When Avv. Lorenzo Alesci retired from his firm in 1994 he purchased the oil company S.O.B. Olearia srl, with the goal to completely renew and improve the company making it a pillar in the oil production industry in the region. The company S.O.B. OLEARIA SRL, was founded in 1984 in Bisacquino (PA), and has used a continuous cycle system for pressing and extracting oil. The system, provided by ALFA LAVAL, is able to process 30 quintals of olives per hour; it is used by over 700 oil producers and is accountable for the production of about 900 qL of oil per year. The company is strategically located in the territory. Surrounded by hills of Bisacquino, Contessa Entellina, and Campofiorito where olive agriculture is highly developed, and year after year new trees are planted. For this reason S.O.B. Olearia srl is on the path of becoming a primary representative of oil production in this region, expanding to the townships of Roccamena and Corleone,
the company was determined to find new markets and oil experts to appreciate their extra virgin olive oil, which was recognized with prestigious awards at the Cibus International Food Show in 2003 in Bari, and 2004 in Parma.
In 2000 S.O.B. Olearia srl added a new bottling line, provided by the company AVE S.p.a, for glass bottles and capable of bottling 1900 bottles per hour.
The owners of S.O.B. Olearia srl are Avv. Lorenzo Alesci, 5/8 owner and also the legal representative, and by his spouse La Russa Caterina, 3/8 owner. It is important to underline that the company is among a handful of excellent establishments in the area of Palermo, for its geographic location, its facility and instrument quality, and finally for the prestige of the family name. The S.O.B. Olearia srl company goal is to constantly strive for excellent quality and to maintain it throughout the product line. By reaching these goals consistently, the company has received numerous awards, and has seen an exponential increase in new clients, who have become evermore demanding. The Alesci oil, produced according to the Sicilian tradition, has the ability to conquer any quality market and provide consumers a typical product "Made in Italy" and a keystone of the Mediterranean diet. Avv. Alesci's nephew, after completing his studies, became part of the company to continue the journey his grandfather started, with the same passion and dedication he inherited.